06/05/2005
The League of Gentlemen at the Phoenix
EXCLUSIVE PREVIEW SCREENING OF 'THE LEAGUE OF GENTLEMEN'S APOCALYPSE' AT THE PHOENIX CINEMA IN THE COMPANY OF STEVE PEMBERTON AND REECE SHEARSMITH IN AID OF THE PHOENIX 'S SEATING CAMPAIGN
The Phoenix Cinema is honoured to host an advance preview screening of The League of Gentlemen's Apocalypse; a darkly funny film that sees the characters of Royston Vasey colliding with their creators. The screening, which takes place on Sunday 22 nd May at 6.45, will be a chance for fans of the hugely popular, original show to get a sneak preview of the film before its national release date of Friday 3 rd June.
The event will be introduced by Steve Pemberton and the film will be followed by a question and answer session with Steve, Reece Shearsmith and, it is hoped, other members of the League of Gentlemen.
Steve Pemberton who lives locally to the Phoenix has generously agreed that all funds from the event should go to the Phoenix 's seat campaign. 'Are You Sitting Comfortably' aims to raise money to replace the cinema's 1970s seating with a new seat exclusively designed for the cinema to bring its comfort levels up to modern standards.
The Phoenix is uniquely operated by a charitable trust and all work has been met by voluntary donations and grants. The seat replacement is one stage of our exciting refurbishment plans, more of which will be discussed on the evening of 22 nd.
Tickets for this special event are priced at £20 and can be bought from the Box Office on 020 8444 6789.
The Phoenix Cinema is in East Finchley , North London . www.phoneixcinema.co.uk
01/05/2005
TV and a Tour
The first series is being repeated on BBC2 from 3rd May at 10pm and...
The League of Gentlemen Are Behind You, a local show for local people is rumoured to be kicking off from 12 October - I am trying to get it confirmed, more info as I get it!
28/04/2005
Save Royston Vasey!

Go to www.uip.co.uk/leagueofgentlemen and register as a local to start your community petition to save the historic town of Royston Vasey !

There will be prizes for the most community-minded, provided by our kind friends at the local shop.
See the full trailer here for Real Or here for Windows media
Marks Write up for Theatre of Blood
" I simply can't wait to see Improbable's 'Theatre of Blood'. Why has no-one thought of this before? I've always considered the film the classiest of beasts and the idea of Jim Broadbent taking on the mantle of Edward Lionheart fills me with a queasy thrill of joyful terror. Friends, Romans, NT patrons, lend me your ears, guts and innards! Go see!"
Mark Gatiss
The competition for this ends tomorrow by the way so enter now or...miss it!
Film release date
The 3rd June 2005 is still the release date, ignore any other dates you may see!
26/04/2005
The League of Gentlmen's Apocalypse
I saw the film yeaterday and I have to say that it was brilliant! I will write a full review tonight but I wanted to let you all know that the film is amazing, it is the League at their best and it is a best we haven't seen before, this is better than anything they have ever done...ok I am a fan saying that, but when they get a round of applause at a press screening that says a lot!
21/04/2005
Film Screening
I am lucky enough to be going to an advance screening of the film on Monday 25th April so expect a full report on Tuesday!
Theatre of Blood
As fans may know, this film is one of the League's favourites and there is a new adaptation of the film being shown at the National Theatre in London. Mark Gatiss is writing an article for the programme and the good news is...you can win two tickets to the opening night courtest of this web site! Visit the Blood and Guts web site here for more information but you can enter the competition here!
Vesuvius Club Competition Closed
Thanks to all those that entered, the winners are: Kathy Kearl, Katryn Bradford and Rob Gilroy can the winners please contact me to discuss size and delivery address!
19/04/2005
Competition
Win film goodies and a trip to the premiere!
Full Trailer...again
The full trailer for broadband users can be seen here!
New Drury Lane DVD...with extras and film clips!
It doesn't say it yet but this DVD (Click here) is the re-release of Drury Lane Live but this time it will feature extras and clips of the film!
13/04/2005
Full Trailer
Click here to see the full trailer! Click on the local shop once the flash apocalypse has finished!
There is an Interview with Mark Gatiss here
Thanks to Robin for this
"A local shop for local people" has made it into the Cassells Dictionary of Catchphrases:
http://news.scotsman.com/latest.cfm?id=4372354
And this:
Blue badge guide Ray Hoerty leads a League of Gentlemen Trail around Royston Vasey on Tuesday, April 19 at 1.30pm as part of the Peak District Walking Festival. Free. Booking essential on 0870 4447275.
04/04/2005
Video Clip
Ok, as promised here are the edited highlights of last nights 50 greatest sketches with the gents at 23, 14 and number3! This runs for over ten minutes and the large file is 20meg so broadband users only I guess! Right click and save target as then watch at your leisure!
04/04/2005
Maxim Mag!
Thanks to Ian for scanning these images from maxim mag! 1 - 2 - 3 - 4
50 Greatest sketches!
Congratulations to the League for their amazing listings in this channel4 show last night! Pauline, Papa Laz and Edward and Tubbs at number 3! Plus a clip from the film! I will have the League bits on the site soon!
22/03/2005
Too much acting!
Sienna Miller will make her West End debut alongside Helen McCrory,
Dominic West and Reece Shearsmith in a new production of
Shakespeare's As You Like It, directed by David Lan, artistic
director of the Young Vic.Miller, who recently starred in the films Alfie and Layer Cake, trained at the Lee Strasberg Theatre Institute and has featured in New York productions of Independence, A School for Scandal and Cigarettes and Chocolate. She will appear as Celia, while McCrory,
whose extensive career includes work for the Almeida, Donmar and
National theatres, as well as the Royal Shakespeare Company, will
play Rosalind.
West will return to British theatre as Orlando, after a US film and
television career which has seen him feature most notably in the HBO series The Wire, while Shearsmith, star and creator of BBC comedy The League of Gentleman and who has appeared in the West End in Art, will make his classical stage debut playing Jacques.
Produced by Sonia Friedman Productions in association with the Young Vic, the show will begin previews at the Wyndhams Theatre from June 3, with press night on June 21 and bookings taken until September 3.

A new Poster!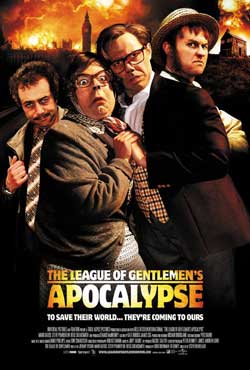 21/03/2005
Mark in the news
Mark will be in the new quartermas on BBC4 in April, read more here! Plus a new interview with Mark here!
11/03/2005
Region 1 DVD's At Last!
As of June 14th all of you in region 1 can enjoy the pure genius that is The League of Gentlemen! Visit the Region 1 Page here
08/03/2005
Film 2005 Clip
This is 7MB so not for our dial up visitors but you can watch the clip of last nights Film 2005 special on the Interviews page by clicking here
Competition update - There is a new way to enter, click on the link below
07/03/2005
Film 2005 and tour news!
Sorry for the lack of updates recently, I moved house on the 25th February and it has taken until today for BT to get their act together and get me online! I have a few words to say about SKY TV too but firstly, the news!
The Tour
The Gents have booked 2 dates in November at their local theatre, nothing more on this at the moment but when I interviewed them last year they did say that they wanted to tour once the film was out of the way! They were unsure what they will do on stage but at that point it wasn't the stage version of the film as I suggested! Thanks to Hayley for the November info, at the moment though it is unclear if this is the start of a nationwide tour or if it will be limited to 'local' venues!
Don't miss Film 2005 tonight 11.30 PM BBC1 as they have an on-set behind the scenes special! You can read about it here but I hope to have the clip online tomorrow!
Bizarre Mag
The League will feature in the March 29th issue!
The DVD Collection
Friday's The DVD Collection at 8.30pm BBC4 will feature Stuart Maconie and Mark Gatiss who examine the evidence for the definitive Sherlock Holmes on DVD!
BT Broadband - Anyone moving home is urged to give BT at least 2 months notice as I only gave 3 weeks and they still messed it up!
SKY TV - Do not use SKY. Simple as that really. I gave them notice to cancel yet despite that they still managed to get another month and a halfs subscription out of me. They are great when you want to sign up but as soon as you want to leave they act like vampires sucking every last penny out of you! If the person you speak to does not write the correct notes on your account then it is your word against theirs and who is going to take SKY to court over £45? I was leaving anyway but I will never go back to them! I am now looking at some of the upcoming Pay per view on demand type providers as well as the cable providers. The problem with SKY TV is you pay so much for each channel but of course you can only watch one channel at once! It is poor value really and lets face it...a satelite dish on the side of your house is starting to look a little chavish!
24/02/2005
A Competition!
Win a Vesuvius Club T-Shirt - Click Here
Change? We don't even give change!
The sharp eyed will have noticed a few changes, if you have any suggestions for content in the new sections let me know!
Comic Relief
The Gents will be on at 9:15pm on BBC1 and then 10:15 on BBC2.
20/02/2005
The League of Gentlemen's Apocalypse delayed!
Sorry to be the bearer of bad news but I was informed on Friday that the release date has been moved to 3rd June.
02/02/2005
Vote for the Gents!
Channel 4 Greatest 50 Comedy Sketches!
The content for the official film website can be found here!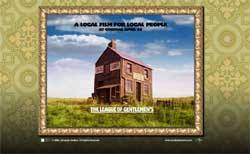 Total Film Scan here with new film pictures!
28/01/2005
The League of Gentlemens Apocalypse Trailer Teaser is here at last!
Exclusive to this site only (until Monday) and with thanks to the PR guys at Premier and Way to Blue I am proud to present this very exciting Trailer for the Movie event of the year!
19/01/2005
Official Press release
Click here to read all the official information on the movie with an exclusive picture and what I believe to be the films logo!
There will be screenings of the film in February which I have been promised an invite to, so expect a full review soon!
Tsunami Aid
The Gents will be taking part in a comedy show in aid of the Tsunami disaster, along with other comedians. Click here to find out more info and the number for tickets.
There's also an auction being held in Glossop, this Sat 22nd Jan in aid of the DEC Tsunami Appeal.There's also two signs up for auction from the set of League of Gentlemen with permision from the BBC. The first reads, 'Joke Shop' and the second 'Jokes to die for'. Please email famous_moe@brighton.zzn.com for a look at the signs and to place a bid if you are interested. The highest bid by this Saturday will win the signs. The same seller also has 'Babs Cab' for sale (yes the actual car!). Again, email him for details. The fund-raiser is to held at Bradbury Community Centre in the centre of Glossop at 1:00pm this Sat.
13/01/2005
Slight error in the title. It's actually The League of Gentlemen's
Apocalypse. And the teaser will start running in the UK this Friday in
front of Meet the Fockers and Team America.

10/01/2005
The Film release date at last! Official Web Site News - The League of Gentlemen Apocalypse
Mark today spilled the release date and final title for the League film, both of which were apparently set today. It hits UK theaters April 22nd as League of Gentlemen Apocalypse.

29/12/2004
Not the words...
80,000 people and rising yet still Boltons shops were full today with people shopping and the restaurants were full of families eating together...my family amongst them, untouched by the horror except in our hearts. If you haven't already made a donation to the Disasters Emergency Committee at http://www.dec.org.uk/ then click here and do it now, the money goes to many of the charities working in the area including Oxfam and the Red Cross.
09/12/2004
Funland
Mark Gatiss is set to star in a new BBC3 comedy drama. "Funland" is co-written by Gatiss' "League of Gentlemen" colleague Jeremy Dyson.
The show, which is being produced at the BBC's Manchester-based comedy unit, centres around a family involved in Blackpool's entertainment industry, who have connections to the criminal underworld.
Speaking about the new show the editor of the BBC's comedy unit, Kenton Allen said: "Funland is the bastard son of The League of Gentleman and EastEnders after a really heavy night on the town with Twin Peaks.
"It's a big sprawling piece, not a sitcom with just four main characters."
Dyson and EastEnders writer Simon Ashdown have penned the first hour-long episode, with ten more half-hour scripts in the pipeline. It is due to go into production in March.

02/11/2004
Thanks to the Yahoo group for letting me know this was out!
Another Mark Interview
The League of Gentlemen's Mark Gatiss is to star in a futuristic new Radio 4 comedy in the new year
Gatiss created Nebulous with Graham Duff, writer of BBC Two's Dr Terrible's House Of Horrible, who penned the full series.
Professor Nebulous heads an ecological troubleshooting organization called K.E.N.T., which is trying to return a post-apocalyptic England to normality.
The show is set in 2099, when most livestock has been eliminated, the year has been restructured to include new months such as Octember and Janril, and there's even a new season: Hamble, which falls between Spring and Summer and is generally drizzly.
K.E.N.T. (which stands for something different each week), tackles such problems as killer cacti or a new colour which sends people insane, even though it is so woefully short of cash, it has to subsidise its work by running a launderette. There is also a generously-funded rival ecological trouble-shooting organisation, L.O.U.G.H.B.O.R.O.U.G.H.
The show starts on Radio 4 at 11pm on January 6.
Gatiss has just finished filming the League Of Gentlemen movie, called Royston Vasey: The Motion Picture or The League of Gentlemen: The Motion Picture, and also wrote one of the stories in the forthcoming Dr Who revival. The name for the film is not yet decided so it may also be Royston Vasey the Movie
01/11/2004
Danny Baker Interview
http://www.bbc.co.uk/london/insideldn/dannybaker/archive1_clipoftheda
y_2004.shtml
This might be still up but if not you can search for the interview he did with Mark!
And another...
http://www.bbc.co.uk/london/realmedia/radio/mark_gatiss.ram

The Gentleman who wants to be a Lord by Steve Pratt
League of Gentlemen star Mark Gatiss was delighted to be asked to write an
episode of the new Dr Who TV series, but he would really like to play The
Doctor himself.
League Of Gentlemen star Mark Gatiss would have loved to have been the new
Doctor Who. But it was not meant to be. Instead, he's written for the new
BBC1 series.
This isn't the first brush of the County Durham-born actor and writer with
the Time Lord. He wrote several Doctor Who books in the 1990s and one is a
favourite of Queer As Folk writer Russell T Davies, who's leading the
writing team on the TV revival.
"Doctor Who was my first book published and it never goes away. Russell says
it's his favourite Doctor Who story," says Gatiss on the phone from Ireland,
where the award-winning League Of Gentlemen are shooting their first feature
film.
His novels featured three Doctors - Sylvester McCoy, Patrick Troughton and
his favourite, Jon Pertwee. The new TV series will differ from the one
fondly remembered by fans. "The thing to bear in mind is Doctor Who was not
a cult programme until its dying years. It was a mass audience programme
watched by ten million every week," Gatiss reminds me.
"The key to the success of the new show is that it's trying to appeal to a
broad audience. It may p*** off some old fans but that's a good thing. If it
only addresses itself to old style fans, it's not succeeded. It has to
appeal to a ten-year-old kid that's not heard of it.
"All these years, people have been saying, 'Wouldn't it be great if Doctor
Who came back?' but those scenarios were played out in an imaginary world.
Now in the real world it has to compete against Ant And Dec's Saturday Night
Takeaway."
He's confident that new Doctor Who Christopher Ecclestone is "absolutely
committed to the role in a wonderful way" and is "a new version of the
doctor we haven't seen before".
Gatiss has written the third episode in the series, which abandons the four
or six parters of the past in favour of single or two-part adventures. His
story introduces writer Charles Dickens (played by Simon Callow) into the
world of the Time Lord.
"It's a totally different format. That was a big change in mindset, having
grown up with four or six part cliffhangers," he says. "The new series is
for modern TV and, to be honest, it really benefits because it goes at such
a lick."
He spent two days on the set but resisted asking to make a guest appearance.
"I'm waiting for my proper part," he jokes about his continued desire to
play Who.
Gatiss couldn't hang around any longer because he was needed in Ireland as
filming began on The League Of Gentlemen feature film. Compared to many
British movies, it's got in front of the cameras comparatively swiftly.
"We've been living with the script for 18 months and the financing of a film
is a nightmare situation. We've had a few ups and downs. But it's working
out. It's amazing what a difference it makes when you are finally in
production. It's a low budget film but tremendously ambitious," he says.
A day off from filming was spent doing publicity for his new novel, The
Vesuvius Club, about the exploits of an Edwardian secret agent. It was
commissioned three years ago and he's been writing it in tandem with The
League's film since then.
"John Jarrold, who's a fan of the show and had read some of my Doctor Who
books, took me to lunch and said the terrifying words, 'Whatever you want to
write'," he recalls.
"It's very nice but ultimately very frightening. I didn't know what to do
but, at the back of my mind, I'd always fancied doing a secret agent story.
I'm a big fan of John Buchan.
"I thought at first it might be quite a hard book like Fleming's, but that
changed. I didn't want anyone to think I had any serious literary
aspirations. I wanted to write the book I always want to take on holiday but
never quite find."
Enter Lucifer Box, a portrait painter who's a wit, a dandy, a rake and the
guest all hostesses (and a few hosts) want to have. He also happens to be
His Majesty's most accomplished and daring secret agent, a deducer and
seducer of the highest order.
As you read The Vesuvius Club, you can visualise the TV drama or film that
could be made from his book. Gatiss rather fancies seeing it as a four-part
BBC serial. Time will tell if that happens.
"It was fun but also an ordeal, like all writing is. There were times I
cursed and times I was having such a good time," he says.
"The Edwardian period is my favourite time. I was brought up on Holmes and
Fu Manchu, so I just used my book as an excuse to read even more stuff and
completely immerse myself in it.
"But I did the thing I wasn't supposed to do - I got so excited and started
writing before I had fully thrashed out the plot. In the end I had to get
rid of stuff that I quite liked."
He's contracted to do more Lucifer Box books. He'd like to move him on 20
years and do a Dennis Wheatley, early 1930s-style book which would give him
"a whole new cartload of things to have fun with".
He hasn't been neglecting his acting, playing a curate in one of the new
ITV1 Miss Marple whodunits, The Murder At The Vicarage. Gatiss also has a
part in the new film Woody Allen made in London during the summer. His scene
involved playing table tennis with hot Hollywood actress Scarlett Johansson.
"Whether that will survive the edit, I don't know," he says.
A little help!
I am starting a new web site dedicated to finding bikers (like myself) the best deals on Superbikes. The Web Site is at http://www.superbikedeals.com and when launched in February 2005 it will provide the best prices for Kawasaki Honda Suzuki Yamaha Ducati Aprilia and Triumph, in other words the best motorbike deals, discounted motorbikes, best deals on bikes! Ducati Prices Kawasaki Prices Yamah Price Suzuki list price aprilia discounts no part exchange deals cheap bike insurance low rate finance technical advice
The help I need is if you have a web site or a forum can you please provide a link to the web site somewhere on your site, no matter what country you are in! If you email me at jason@superbikedeals.com and let me know where the link is I will add a link to your site from this site on the new links page when it is launched, no matter what the site is!
Thanks!
15/11/2004
Now up, the Exclusive Interview!
Read about the day I Interviewed Steve and mark here
11/11/2004
Exclusive Interview!
I spent today on the film set in Hadfoeld being looked after by Premier PR and at the end of filming had the opportunity to Interview Mark and Steve...still in costume! I will post the full story in two days so come back soon!
Jason