Read an exclusive interview with Steve Pemberton and Mark Gatiss here!
The League of Gentlemens Apocalypse Trailer Teaser
Film release date is now June 3rd 2005
United International Pictures
Announce the UK Release Date
June 3rd 2005
Written By:
MARK GATISS
STEVE PEMBERTON
JEREMY DYSON
REECE SHEARSMITH
Directed By:
STEVE BENDELACK
Universal Studios, Film Four and Tiger Aspect Pictures in association with Hell's Kitchen International have joined together to bring the cult classic TV show 'The League of Gentlemen' to the big screen in the much anticipated...

'The League of Gentlemen's Apocalypse'.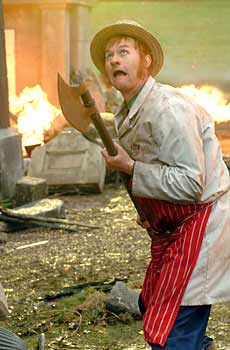 Directed by Steve Bendelack (League of Gentlemen, Little Britain) 'The League of Gentlemen's Apocalypse' is brought to you from the team behind the multi-award winning comedy TV series The League of Gentlemen. Created by and starring Mark Gatiss, Steve Pemberton, Reece Shearsmith and Jeremy Dyson, The League of Gentlemen's Apocalypse is due for national release as a full length, all action movie feature on June 3rd 2005.
The fictional world of Royston Vasey is facing apocalypse and the only way to avert disaster is for our nightmarish cast of characters to find a way into the real world and confront their creators. From present day Soho to the fictional film world of 17th Century Britain, the residents must overcome countless bizarre obstacles in their bid to return Royston Vasey to safety. In addition to featuring the most beloved characters from the original TV series, this darkly hilarious movie adventure also features a whole host of freakish new creations and cameo performances from famous faces such as David Warner, Bernard Hill, Victoria Wood, Emily Woof, Peter Kay and Simon Pegg.

The League of Gentlemen's Apocalypse is a Universal Studios and Film Four presentation of a Tiger Aspect Pictures production in association with Hell's Kitchen International. The League of Gentlemen's Apocalypse is directed by Steve Bendelack and produced by Greg Brenman and Ed Guiney. Executive Producers are Peter Bennett-Jones, Andrew Lowe and The League of Gentlemen.

'The League of Gentlemen's Apocalypse' is distributed in the UK and Ireland by UIP and opens nationwide on April 22nd 2005.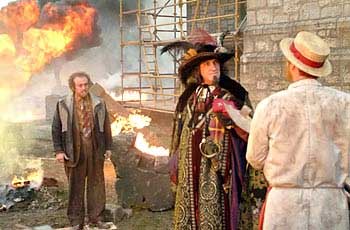 Renaissance Gentleman
Actor, screenwriter, novelist, control freak, League of Gentlemen co-founder and creator Mark Gatiss is a man of many talents, not least his chameleon-like ability to turn himself into any one of his hilariously sinister/tragic characters from the cult BBC2 show. Having scripted a key episode of the new Dr Who and completed his first novel, he is currently filming LoG – the movie – in Ireland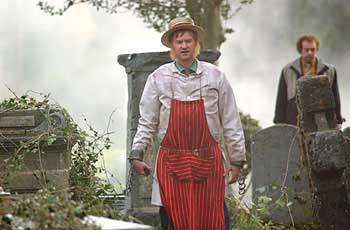 The Wicklow Gap is not an inherently evil place. It's actually one of Ireland's purest and most beautiful physical features, a high mountain pass through colourful, glistening valley country. On a clear day, you would be wonderstruck. But today the rain clouds are low enough to claw at the ground, carried by a pitiless sub-zero wind, mixing with the fog and blanking everything out. It's a miasma of dread, I tell you. So sinister it's funny. Which is exactly the atmosphere The League of Gentlemen have always courted.
And right in the middle of the Gap is where the new full-length movie-version of that horrific BBC hit comedy series is being shot. My mother, who lives nearby, kindly drives me up there. She's never watched The League of Gentlemen. I could tell her that she definitely wouldn't get it or like it, but that would start an argument. She doesn't see how they could possibly be filming on a day like this. At first, it's hard to tell what's happening – the production car park is full, but there's no one around. Then Steve Pemberton, actor, writer, and co-founder of The League, strides out of the ominous whiteness toward his trailer, dressed in full Bavarian folk-costume as Herr Lipp, the programme's repugnant and hilarious German tour guide and pederast. He's followed by a rag-tag squad of miserable boy scouts. They're filming all right.
As it turns out, the weather isn't quite hostile enough for their needs, so they've got the wind and rain machines running on full power down at the set. It is here, in the back seat of a Land Rover, half-sunk into the black mud, that I meet Mark Gatiss, another founding Gentleman – also a co-writer of the forthcoming, re-invented Dr Who series, and the author of a frisky new comic novel called The Vesuvius Club.
"Money," he says brightly, when asked why they're filming in Ireland. The three series of the TV show were shot on location around Hadfield, Derbyshire, standing in for the fictional rural outpost of Royston Vasey. The League of Gentlemen has always been a grotesquely distorted vision of northern England. "It's all about the tax breaks, I'm afraid. But the landscape makes a great double, I have to say. A big section of the film is set in the 17th Century, and for the rest of it the world is coming to an end, so the location works really well in this kind of weather."
Gatiss is a reasonably handsome man – my mother said so when I showed her his author photograph – but today he's so hideous I can barely look at him. He's currently between scenes as Hillary Briss, the vile local butcher whose extremely suspicious and addictive "special meat" caused a plague of fatal nosebleeds on the TV show. His overalls are stained with viscera and his teeth are coated in rust-coloured filth.
Gatiss has already played Briss, along with more than 20 other regular characters, in the original League of Gentlemen live sketch show (which won the Perrier award at the Edinburgh Fringe festival in 1997), on their BBC Radio 4 programme (which won a Sony award), and in the TV incarnation (which has won a Royal Television Society award, and the Golden Rose of Montreux). This film, then, will represent the fourth medium that the League have …
"… conquered, ha ha ha," interrupts Gatiss. "But we've wanted to make a movie from the start. This is our wildest dream come true. The show was always evolving, from separate sketches to scenes with a link, and then separate tales based around a set of characters from the same place. This film is about as far as we can go with it, I think, a full-blown monster movie/disaster movie."
Gatiss, Pemberton, Reece Shearsmith, and Jeremy Dyson met as drama students at Bretton Hall in Wakefield, West Yorkshire. All they really had in common was a shared taste for the nasty classics of British sci-fi and horror cinema – Witchfinder General, The Quartermass Experiment, The Wicker Man, the Amicus studio's portmanteau movies Torture Garden and Dead Of Night. Gatiss had become a weirdness connoisseur growing up in Sedgefield, Durham, opposite an Edwardian psychiatric hospital where his father sometimes worked as an engineer.
"That place definitely had an effect on me," he says. "When I was little we would go over the road and watch films with the patients, and I remember being more concerned with looking at frightening shapes in the shadows than whatever was on the screen. People would routinely get out of their seats and shuffle toward you, like in Dawn of the Dead. Obviously I got used to it, but I think it helped me to develop quite a strong fascination for Northern Gothic."
He recalls bonding with Pemberton over an early sketch they wrote, about a perfectly innocent but vaguely scary father sitting in the dark at the end of his son's bed.
"I remember us crying with laughter because there was something so real and creepy about it. My dad was a great guy, but he worked hard, and he was a formidable presence. We wanted to play with that odd feeling you used to get when you were watching telly after school, and it got dark, and you heard your dad's car coming up the gravel driveway, and everything suddenly became quiet and serious."
Between them, The League of Gentlemen have since gradually constructed their own myth from that kind of everyday strangeness and irrational fear. Royston Vasey looks like any other dismal British post-industrial village, but the joke is that your nagging feelings of dread and oppression are entirely justified in this case – the place is cut off from the world and populated by monstrous malcontents who will drag you into their psychosis. Their sicknesses are so absurd and extreme, and your doom so inevitable, that you've really got to laugh. And every resident is played by either Gatiss, Pemberton or Shearsmith (Jeremy Dyson can write, but he can't act).
"We do prize the performance aspect of it," says Gatiss. "It's a real source of pride to us that many people still aren't quite sure how many of us are playing the characters."
While Pemberton's characters tend to be insidiously menacing (Herr Lipp, toad-enthusiast Harvey Denton) and Shearsmith's are often repressing some kind of demented rage (Geoff the frustrated local businessman, hell-fixated preacher Reverend Bernice), Gatiss generally plays the more unfortunate souls – the gruesome accident-prone local vet Dr Chinnery, failed glam-rocker Les McQueen.
"The soft-hearted ones," he says. "That's true, yeah. We all write a bit differently, and that's how my characters seem to naturally fall out. I love those kind of well-meaning, tragic types. But it's nice to ring the changes with a character you can pour your bile into, a real gimlet-eyed monster."
He grins with the butcher's bloody teeth and I try not to flinch. As an actor and scriptwriter, the "sheer joy of The League of Gentlemen has been writing the sort of thing you've always wanted to be in, and then actually being in it". Gatiss and co are control freaks, and they worked independently, at their own painstaking pace, on the screenplay for the film.
"We've always been left alone and we couldn't bear the idea of our stuff suddenly being fiddled with just because it's a movie. We wanted to present it as a strong, complete script – this is the film we want to make; do you want to pay for it? And the answer was no, ha ha ha."
As it turned out, the BBC couldn't fund the movie, but Film Four could, despite their recent downsizing. And when it's finished shooting, the League will probably be leaving Royston Vasey at last. "We won't be splitting up," says Gatiss, "but we've reached a crossroads. The film rounds things off, in a way, and I don't know what else we could do with the format. We will not repeat ourselves. The good thing is that League of Gentlemen is just a title, and we can decide exactly what it means. People will want more of the same, but if you can't keep yourself interested, you should do something else."
And lately, Gatiss hasn't been short of something else to do. "I fear I'm really lazy, but I also feel guilty when I'm doing nothing at all. I spent so many years in the standard grinding poverty as an actor that I tend to get over-excited about new opportunities, and I end up saying yes to everything."
He takes small acting roles in other people's projects – Steve Coogan's unfunny but fine-detailed Victorian horror-pastiche Dr Terrible's House Of Horrible, Stephen Fry's film Bright Young Things – which he considers "little holidays". He has just scripted a key episode for the BBC's resurrection of Dr Who. He wrote The Vesuvius Club while working on the League of Gentlemen screenplay. And in his spare time he paints portraits in oils – "just to relax, to take my mind off other things. I don't really show the work to anyone."
Even so, Gatiss seems to be, for lack of a more modern term, a Renaissance man. "Ah yes," he says, "but so was Cesare Borgias [15th-Century Cardinal, killer, master-schemer and megalomaniac]."
The Dr Who commission was another dream job somehow drafted into reality for Gatiss. He loved the programme as a child, and hated it when it became an obscure self-parody. "People forget that Dr Who didn't used to be a cult show, it was a big popular success. It only became cultish when it went wrong, and started addressing itself to its core audience only."
The first fiction Gatiss ever published was a sequence of Dr Who novels, in which he attempted to correct the problems that had killed the show off in the late Eighties. "I thought I knew how it should be done," he says. "I had a traditionalist viewpoint, but I also decided it wasn't really a children's programme, and you could have all this violence and sex in it."
And the first TV scripts he ever wrote were for his own series of cheap, short Dr Who spin-off films with titles such as The Devil Of Winterbourne and The Zero Imperative, which were shot on video and featured ex-Doctors Jon Pertwee, Colin Baker and Peter Davison. I admit I haven't seen them. "No," says Gatiss. "And you never will. One, they're not available. And two, I forbid it. Christ, for all I knew, they were the only things I would ever get to make. And I learned a frightening amount from working on them."
Then, after a long period in cold storage, briefly interrupted by one misconceived Anglo-American TV movie starring Paul McGann, the BBC decided to revive the Doctor. "I always thought if it ever came back, it would be mishandled. I just didn't believe that the people who got control of it would really love it. But that's exactly what's happened."
Long-time fan and Queer As Folk writer Russell T Davies was put in charge, hired like-minded writers such as Gatiss, and cast the intensely watchable character actor Christopher Ecclestone as The Doctor. The result, says Gatiss, entirely biased but highly excited, is "a brilliant reinvention".
"I'm not just saying that. Chris plays it straight, but fun. His seriousness is almost frightening, it makes The Doctor seem more alien, more like an innocent on Earth. When he tells you the world is going to explode, you believe it. It's a wonderful part and a great piece of television. Very funny, very scary."
His own episode has just been filmed, so Gatiss' involvement recently came to an end. "It was hard to say goodbye to it. A real wrench," he admits.
His new novel, though, was a total relief to finish. The Vesuvius Club is a saucy romp through early-Edwardian London – "What my father would call 'racy'," says Gatiss – narrated by a screamingly louche bisexual portrait painter and secret agent named Lucifer Box, who kills with impunity, fornicates with gusto, and always picks the right colour flower for his buttonhole. The wild plot is bit too noisy and busy, over-stuffed with thrilling chases, fiendish twists and droll asides, but it's a load of fun to read. Gatiss insisted that the publishers include a subtitle proclaiming the story "A Bit Of Fluff". Which doesn't mean it was fun to write.
"All the clichés are true. It was lonely and difficult. I regularly wondered why I was putting myself through this. It's not that writing a script isn't hard, but it's just not as labour intensive as a novel. Sometimes I just wanted to throw it against the wall."
He first took the commission three years ago, because it was another one of those opportunities to do something he always wanted to. "I wanted to write the kind of holiday book I've always been looking for, and I've never really found, not since I read The Adventures Of Sherlock Holmes. A pastiche of Conan Doyle and Fu Manchu and all these things I live and breathe."
He's satisfied enough with the result, "a shallow and light-hearted thing", featuring a hero who says and does things that authors of Gatiss' chosen period could never have dared to publish. "I love the idea of going places we think are familiar, but adding something new, a slightly different sensibility."
The book is dedicated to his boyfriend Ian, whom Gatiss describes as the love of his life. They've be been together for five years, and I was wondering, given the recent debates over the issue in the European Parliament and during the American presidential race, if they would ever get married.
"I dunno," he says. "We've talked about that. I have a long-standing fear of it, not the commitment, just the ritual itself. I remember the relaunch of the Labour party with Neil Kinnock and the red rose, and Roy Hattersley describing it as being like a gay wedding. It's never left me, that image. I've also never liked the fact that it's not the real ceremony, it's often just a fairly crass hybrid which sort of apes the heterosexual norm."
For a guy with a deep and serious love of British pulp, genre, and schlock, Gatiss has a pretty refined aesthetic palette. He shares his taste in art, if by no means his lifestyle, with his own dandified hero Lucifer Box, who takes time out from sleuthing and carousing to exhalt Velazquez and spit on El Greco.
"I can't stand El Greco. He's so bad, such awful draftsmanship. For his time, he was probably a frightening visionary, but the work is so ugly, the paintings are so chalky, there's such a terrible blue and a terrible red to them. Ugh."
It's funny, I say, as a make-up lady leans into the Land Rover to touch up the nauseating features of Hillary Briss, that Gatiss of all people should demand beauty from his art.
"I would like to think," he says, "there's a sort of beauty in what we do. In the strangeness of it, the attention to detail. This film will still look a bit like cheap television, but with greater depth, on a grander, cinematic scale. So yeah, I think it will be beautiful."

The Vesuvius Club is published by Simon & Schuster, £15; Dr Who will screen on BBC 1 in early 2005; The League of Gentlemen movie will be released later next year
07 November 2004

Confirmation of Film Name!
According to these photo's the Film is to be called Royston Vasey...which is good news for our site http://www.roystonvasey.co.uk!
Read the full article here http://www.showbizireland.com/news/october04/03-gentlemen01.shtml but the pics are on the latest news Page!
05/10/2004
Newsflash! - Steve Bendelack confirmed to direct League of Gentlemen Film!
Other cast members confirmed include Welsh actor Michael Sheen, Bruno Langley who plays Todd Grimshaw in Coronation Street and Manchester born actor David Warner who says of his role...
"I'm going to be in The League Of Gentlemen film," laughs the Manchester-born actor.

"They wrote a part especially for me, which is very flattering. A few years ago they invited me to be in their TV Christmas special but I couldn't do it as I was living and working in America at the time.

"However, I became friends with them and now they have invited me to be in their film.

"Because I had been living in America, I hadn't seen the show when it was on TV, so when I watched some tapes I couldn't understand what was going on!

"They are really very clever and they are very good actors. It is a strange show, but I really like it and now I've seen all the tapes I am a huge fan.

"It is a real change for me too; it gives me a chance to be a bit stupid! I like to do comedy but rarely get asked to do it so to have the opportunity to do something like The League Of Gentlemen and hopefully make people laugh is great.

"They haven't got me dressing up as a woman as yet but you never know!"
David Warner has been in the acting business for more than 40 years with a varied career starring in Hollywood blockbusters like Titanic and The Omen and TV classic dramas like The Choir and Twin Peaks.
More...
Taken from Empire...
League Of Gentlemen Movie? Extraordinary!

Edward and Tubbs, the snout-faced shopkeepers of Royston Vasey,
aren't overly fond of things — or people — that aren't local.
Particularly protective of the `precious things' on their dusty
shelves, they've been known to burn strangers alive for daring to
enter their store. For them, the bright lights of the city are cause
for abject terror rather than fascination.
So it's a bit surprising that they're finally left Royston behind to
visit London. Shooting began this week in the capital for The League
Of Gentlemen's first big-screen outing, featuring all the bizarre
town's resident creeps, transexual cab drivers and wife-collecting
circus ringleaders.
The cult British comedy is one of the edgiest TV shows around,
constantly pushing the boundaries of acceptable taste. So God only
knows what the team (who have confessed that their favourite movie is
The Wicker Man) have in store for us with their bid for cinema infamy.
Whatever horrors are lined up, prepare for a time-twisting narrative
in which the monstrous characters break through the divide between
their fictional world and the real one in order to save themselves
from destruction. It's also been promised that the dark adventure
will feature a host of cameos from famous faces. Though considering
that the TV show guest-starred Roy Chubby Brown (whose real name is
Royston Vasey, fact fans), don't hold your breath for an appearance
from David Beckham!
From The Sunday Times Culture supplement, July 11 2004:

A mass raising of eyebrows within the BBC comedy department about the film of BBC2's Bafta-laden The League of Gentlemen. The problem? It's not
really a BBC project, a large chunk of the financing is coming from FilmFour.

"It's pretty embarrassing for us," one BBC comedy wonk told me. "It was a BBC radio show and a BBC TV comedy, but now we have nothing to do with
the film!