How do I contact the League of Gentlemen or their management?
Their management can be found at www.pbjmgt.co.uk however they do not take e-mails off fans. Please note that I always reply to e-mails but The League of Gentlemen do not read e-mails sent to me. This is an unofficial web site and the Gents have no connection whatsoever.
Who writes which scene?
They have never made that totally clear but they write in pairs. Steve writes with Reece and Mark writes with Jeremy. In the Behind the Scenes Documentary they talked about the writing process.
Will the Christmas Special be released on Video or DVD?
Yes! It is being released November 25th 2002!
What will the League be doing after making the third series?
After they have starred in 'Art' in London's West End they hope to write and star in a feature film, no further information is currently available, again check out the Latest news section as I will post information as soon as I get it!

Will they be touring again?
Judging by the success of the Live tour and the fact that their background is on the stage, I am sure they will want to tour again. They are currently doing ART in London, check the latest news section for details! I keep a close eye on this subject and I will post information on the latest news page as soon as I get it!

There used to be a site that sold t-shirts and mugs...what happened to it?
That was TCB, they did the official Tour Merchandise but that line has been discontinued. Currently the only official merchandise consists of Video's and DVD's and of course the books! HMV has a few of the T-Shirts that TCB used to sell but only limited styles and numbers!
I thought this was the Official Web site, it is listed as Official on some of the search engines! Where is the Official site?
There isn't an Official site, the League figure we are doing such a good job they don't need one! There are a few really good ones such as the Royston Vasey site. I take it as a compliment that the search engines have put this site as Official but I have to point out that I have not submitted it as official and it isn't! This site was recently voted 48th in the top 100 TV web sites by Web User Magazine.

The TV Series features a laughter track, was it filmed in front of a audience and how can I get in the audience for the next series?
Yes it was filmed in front of an audience at times. The third series will be more like the Christmas special and was not filmed in front of an audience.
I live near or have been to Hadfield and I cannot find the local shop, where is it?
It was a prop so the building didn't actually exist as such, the Local Shop prop wasn't located anywhere near Hadfield it was on the edge of Marsden Moor overlooking Marsden Village, a small pennine village in the Colne Valley about7 - miles from Huddersfield in west Yorkshire.
I want to be an Extra or I have an idea I want to share with the League.
With regard to 'extra' work, I would advise writing to The League of Gentlemen production office, BBC Television Centre, Wood Lane, London, W127RJ. However, I think you should be aware that the BBC will usually only use Equity members as support cast. Also, The League will not look at unsolicited ideas for characters, etc as they write all their own material.
Where do the Gents come from?
Steve is from Chorley, Mark hails from Darlington, Reece is from Hull and Jeremy was born in Leeds. When they were considering the location for Royston Vasey, they wanted to convey an amalgam of all the small Northern towns that each of them had grown up in.
How did the Gents meet?
They met at Bretton Hall Drama College, with the exception of Jeremy, who was introduced to Mark via a mutual friend. Mark and Steve were in the same year at Bretton Hall Collage, Wakefield, in 1984, where they co-wrote and appeared in various productions together including 'Damage your Children' and 'Death Warmed Up'.
They became friends with Reece, who was in the year below, when the two were in a production of 'The Taming Of The Shrew'. They discovered that they had the same taste in films, TV and comedy.

Meanwhile Jeremy was at Leeds University studying philosophy, and his flatmate was studying drama with Mark so he sugested they all meet. as the thought Mark was just like Jeremy! Jeremy admitted hating these sorts of situation and resisted liking mark for half an hour...until Mark mentioned a sitcom staring John Inman, which Jeremy had been trying to remember the name of for 3 years! Another 3 years later they later found out the name of it!
They discovered they all had a love for Hammer Horror films and they had all watched 'Carry on Screaming' on Bonfire Night 1976. They also felt a divide between themselves and the rest of the Drama Students who Reece once desribed as 'A terrible breed of pretensious twats', and use to go around singing Monty Pythons 'Spam song'. While at Bretton Hall they were taught how to comb their hair, mime eating apples and pears, and also had to attend a 'Kissing Workshop'...
Bretton Hall is part of the University of Leeds, Founded in 1949, Bretton Hall College specialised in innovative courses in design, music and the visual and performance arts. Bretton Hall and the University merged fully in August 2001.
Apart from the Gents, other graduates include John Godber (yes, that's John f***ing Godber), David Rappaport (Randall from 'Time Bandits') and Mark Thomas (him of the Comedy Product)
Too much act-ing?
If you want to study at Bretton Hall, you might want to check out their website or the unofficial guide. Courses in theatre acting, dance, creative writing, arts management, arts education, performance design and production and some fine art courses are taught on the Bretton Hall Campus.
Can I visit?
The Bretton Hall Campus has developed around a spectacular 18th Century Palladian mansion. The mansion is a listed building set in formal gardens, with lakes and woods and is one of the most stunning campuses in the country. Bretton Hall Campus is not open to the public itself but it is adjacent to the Yorkshire Sculpture Park
This houses the largest collection of Henry Moore sculptures in the world, along with other significant work. It's quite superb. I've been myself - there is plenty of parking and the surrounding countryside is gorgeous! It's a lovely day out for a walk or a picnic and there is plenty for kids to do.
Location
The Bretton Hall Campus is situated in an area of outstanding beauty between Wakefield and Sheffield, Leeds is a 30 minute drive up the M1. From the M1 turn off at junction 38 (Haigh Roundabout) and follow the signs to Huddersfield and West Bretton. From the A636 turn off at the junction with the A637 and follow the signs to West Bretton. In West Bretton turn off the main road at the war memorial into Park Lane. Continue down the road until you pass through stone gate posts into the Bretton Hall Campus. Keep going down the drive until you arrive at the car park. You do pay for parking, but there is no payment for entrance to the Sculpture park.

How did the Gents get started in comedy?
After deciding to form The League of Gentlemen, they began to play various London clubs for half hour slots in the middle of another comedy act. However, they soon realised this wasn't working, as their style of comedy was often dramatically different from those who they were supporting. So, after careful consideration, they decided to book themselves a three-month slot at the Canal CafŽ in London. Here, they blossomed, and formed a very early fan-base. They played at the Edinburgh Fringe in 1996, and returned in 1997, where they won the Perrier Award. From here, they were spotted by producer Sarah Smith, who got them a contract on BBC Radio 4, where they produced six half-hour programmes (On The Town with The League of Gentlemen). Following this, they were offered a contract for a BBC2 TV Show.
Are any of the Gents single?
Reece is married to Jane and has a new baby girl, Jeremy is married to Nicki. Steve has a girlfriend called Alison (and a little boy called Lucas), and Mark's boyfriend is called Ian.
How do I get the Easter Eggs on the series 1 and 2 DVDs?
The Easter Eggs are little extras on the DVD that are not listed, they are included as a surprise, and the ones on the series 1 and 2 discs are certainly worth watching!
Series 1: From the title screen, select 'Precious Things', then 'Local People'. Once a character is on the screen, highlight 'Local People' (but don't select it again). Then, press the left arrow button on your remote, and you will hear the selected character saying a catchphrase! Interestingly, the characters say different catchphrases each time you put the disc in. If you are using a computer to watch your DVD, follow the above procedure, using the arrow keys on the keyboard instead of the remote.
Series 2: From the disc 2 title screen, highlight 'Missing', but don't select it. Press the left arrow button on your remote. This takes you to a screen with a picture of a telephone asking for a phone number. Type in Pop's number, 444 4244 and press enter. You will then be taken to a backstage film, made using someone's video camera, partly with Mark Gatiss doing the filming.
What IS the Special Stuff?
Well... the Gents will never tell! Mark says that it changes every day. It has, at various times been Hannah Gordon, and a Blue Peter presenter and his dog Goldie. However, Reece says that there ARE clues in the series, and that it is possible to be worked out...
The League of Gentlemen as you know, are Jeremy Dyson, Steve Pemberton, Mark Gatiss and Reece Shearsmith.

The answers here are in no way official League of gentlemen Answers. I try to ensure 100% accuracy but if you find any mistakes please let me know here.
Old News Below!
I have put the Series 3 trailer in the downloads page, you will need either the latest windows media player or real one to watch it, both are free downloads from microsoft.com or real.com
The League will be on Johnny Vaughan tonight on Tuesday the 24th on BBC Choice!
Reece was on Radio last night, listen to it here!
20/10
Reece Shearsmith will be on Edwina Currie's show on Radio 5 Live tomorrow (sat) so don't miss it! He will be talking about the third series and hopefully answering the questions I have just emailed!
For avoidence of any confusion this is how the third series will be shown...
Wk1
BBC2 episode one
Choice Episode two
Wk2
BBC2 Episode Two
Choice Episode three
Wk3
BBC2 Episode Three
Choice Episode four
Wk4
BBC2 Episode Four
Choice Episode five
Wk5
BBC2 Episode Five
Choice Episode Six
Wk6
BBC2 Episode Six

I hope this sorts it out for everyone! All you have to do now is decide if you are going to watch episode two straight away or wait for the week after!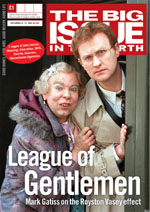 The League will be on the cover of the Big Issue in the North from Sept 21st, this is the cover!
The Third episode will be called Turn Again Geoff Tipps and features Geoff who when fired from his job, heads to London to
fulfil his dream of becoming Royston Vasey's leading entertainer.
Meanwhile, Legz Akimbo theatre company mount their latest production -
a sensitive look at the disabled - and fag-hag Tish descends on
Camden Town.

19/10
Well as Mick the cave guide would say, 'Life finds a way...'
Trailers!
The Series 3 Trailers are now being shown on BBC2 so watch out for them and don't read this review of the trailer if you don't want to know!
The trailer opened up with a slow motion pan around the burned local
shop. Sound bites from the last episode of S2 play over the top of
this along with some macarbe, somber music. Barbara was then shown
inside laying down flowers for her "beloved david" inside the burned
down shop. She then leaves, and a few seconds later a "Carrie" style
hand emerges from a pile of rubble, followed by a flower hat, then
the Tattsyrups both sit up and proclaim that THEY'RE ALIVE!!
Review by Mikey from the TLoG Spoilers Group on Yahoo. Read about his band here!

http://www.geocities.com/burgermonkey

NEWS FLASH!
It is now officially confirmed that the Gents will star in ART from the 14th October!
You can buy tickets from the Whitehall theatre!
18/10
So long LTG

Steve Burton, Local Tour Guide in Hadfield sadly passed away today. Our thoughts go to his family and all those lucky enough to have called him a friend.
So long Steve, so many will miss you!
Please sign the condolance book if you knew Steve or ever chatted to him on the Internet. You can find it here.

New Characters
DOUGAL, KENNY, SHELLEY AND OSHI
Christopher Ecclestone is our guest star, playing Dougal Siepp, who
used to be in business with Kenny, at the the front. Kenny runs a dog
cinema and they had a falling out because Siepp is into cats and
started to show films that had cat influences. Reece and me play
Kenny's employees Shelley and Oshi, who's a Japanese film
projectionist. (Where the hell did they get the inspiration for
thatt?? - Dave;o))
TISH
Tish is shit backwards (er, almost), which wasn't deliberate. She's a
fag hag, she loves gay guys. She's posh and she's 'been to India and
shit? And it's amazing? And everything's a question?' I had to shave
my belly to play her. If you go to Camden and throw a rock you'll hit
someone like her with a floppy hat and crystals. So please do.
DEAN TAVOULARIS
That's his stage name, which he's obviouslyy chosen because he thinks
it sounds showbiz. He's a street magaician, Royston Vasey's answer to
David Blaine. But he's doing it to pensioners on their way to buy
some bin bags or something. They pick a card and then by the time
he's done the trick, they've forgotten what the card was.
DADDY
Mark calles him the Klingon Ambassador just becayse of his look. He
comes to the B&B in Royston Vasey to give a demonstraion of his sex
device 'The Medusa'. He sounds a bit like a seedire Jonathon Ross, if
you can imagine that. 'Twust your Daddy...Do not be afwaid my child'
You can't tell in this picture, but I actually wore a bra.
DON LYNCH
This is probably the closest we've ever come to copying a real
person. Out stage manager on tour was a guy called Don, and Irish guy
who was one part Long John Silver, one part Frank Carson, and one
part Tony Soprano. He was jovial but would have dark days. We went to
Belfast and he was like 'Ah, lot o' coddins...'
KEITH DROP
We realised that Vinnie and Reenie, who run the charity shop, were
basically the same character and were a bit hard on the ears, so we
replaced Vinnie with Keith. He's a camp man who's into amateur
dramatics and he's doing a production of The Diary Of Anne Frank,
which Pam Doove gets involved with. Playing a Nazi.
17/09
Don't forget Bizzare is out today!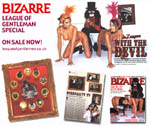 The first episode of the new series will be called The Lesbian and the Monkey and the second will be called The one armed man is King. They relate to the Pauline episode (1st) and the Lance Longthorne episode (2nd) and they are now only 9 days away!
They will be repeated on BBC Choice immediately they have finished on BBC2 ?? Anyone figure that one out? A few days later would have been better surely! Guess that's why we only watch TV and don't produce it!
11/09
I have just received an advance copy of Bizzare magazine (October issue out 17th September) and whilst I have promised not to transcribe the article in any way, I will tell you it is the best Gents feature I have seen yet! It features no less than 11 Pages (including pictures) and has Papa Laz on the cover (cover will be scanned and will be on here later!) along with a couple of new wifes!
Ok, here is the front cover, reproduced with permission!
Long standing fans will be delighted to hear we are mentioned, not always in a positive light...but there you go!
Seriously it is a fabulous article, well written and excellant photo's. I have never rated League articles before but I am going to start and this gets 5 Stars. Out of five obviously!
07/09
I have been sent an amage of the menu from The New League of Gentlemen Xmas Special, you can see it below! Apparently the menu will be animated! You can now order the Christmas special from Amazon! Click here to look at it!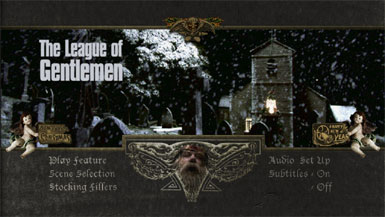 The Gents will be on 'That Gay Show' on BBC Choice on Sunday night!
06/09
Welcome!
There is also new merchandise available in the merchandise area!
05/09
Third Series approaches!
Ok, considering that series 3 plot lines are common knowledge now, scripts in Arena mag for instance, I thought I would bring the series 3 area into the latest news area, for those of you who don't want to know spoilers skip this entry
I have received many reports from people who watched the filming, most of who travelled miles to visit the set, I think it is most interesting about those characters that are returning!
The League of Gentlemen returned to Hadfield but have also filmed in Oxford, Bacup, Camden and Glossop.
Pauline, ross and Mickey are back as is Barbara although she is played by a new actor as the original actor was ill at the time.

Pam Doove returns in a production of The Diary of Anne Frank! That sounds interesting! Lance returns with his joke shop as do Gary and Lynne, I wonder if they are still renting off Pops. Somebody who is not renting for a while in Royston Vasey is Herr Lipp who has not been spotted at all during filming.

Vinnie and Reenie return as the Charity shop ladies, the Gents nod at Monty Python if you ask me!

Judee returns, as do Charlie, Tony and Stella! Mr Foot returns to put his err...foot in it and Mrs Beasley, Nana Brambles, Ken Sweeney and Mr Waddylove also return!
Legz Akimbo return in full force and they have a friend with them, lets just say she has a nice felt hat!

Brian, Geoff and Mike have also been spotted as has Alvin Steele of the Windermere Guesthouse.

Probably the biggest news is the return of Papa Laz but prepare yourself!
The format has changed, each week we see events from the eyes of a different character! In the first week it will be about Pauline and her Prison life and the return to Royston Vasey, in the second week it will be the turn of Lance Longthorne from the joke shop and in the third week Geoff Tipps travels to Lundun to try his hand at being a stand up comedian! The fourth episode features Alvin Steele from the swinging bed and breakfast, the fifth week is all about Charlie Hull and then finally in the sixth week we get a finale centered around the charity shop and I understand it ends with a cliff hanger!
The reports I have received make the third series sound the best yet! Thanks to Andrew for the list of return characters and thanks to all of you who emailed me with storylines and gossip. I will review the first episode of the 3rd series as soon as it airs!
If you want to read the full plot lines for Series 3 and even see some of the Photo's of filming then head over to the Yahoo series 3 spoilers group which is here!
01/09
News roundup, Arena Mag and Series 3 Format!
Firstly thanks to all of you who gave a thumbs up to the latest news by text message, I will be working on it this week and will post a decision on it soon!
Secondly, go out and Buy the October issue of Arena magazine, it has a two page feature on the return of The League of Gentlemen and has Steve Pemberton blabbing his mouth off about the new format and new characters and it even has a sample script whaich is hilarious in the way only The League of Gentlemen can be! The article also confirms the format that I posted way back before filming started which is that each episode will be the same time slot seen from a different viewpoint.
If I get the jist right, there is an event (unknown at the moment) and each week we see that event from the eyes of a different character! In the first week it will be about Pauline and her Prison life and the return to Royston Vasey, in the second week it will be the turn of Lance Longthorne from the joke shop and in the third week Geoff Tipps travels to Lundun to try his hand at being a stand up comedian! The fourth episode features Alvin Steele from the swinging bed and breakfast, the fifth week is all about Charlie Hull and then finally in the sixth week we get a finale centered around the charity shop and I understand it ends with a cliff hanger!
The article confirms that The Dentons and Hilary Briss do not return, hints at an appearance by Edward and Tubbs, lets the well kept secret regarding the return of papa Laz out of the bag and introduces a new character, Dr. Carlton!
There is also a small article in the October issue of FHM but this is not the expected article which seems to have disappeared into the ether! FHM were at the filming in Hadfield and an article was supposed to be forthcoming, alas, no.
For those of you who have not yet joined the Yahoo discussion/newsletter group, see what you are missing...
The Gents will be on:

* BBC 2, Sunday 1st, Series 1/2 repeats. (Source: Dave Isaacs,
message 20929). Watch out for possible Series 3 trailers.
* BBC Choice, That Gay Show, 8th September. Possible Gents talking
about the new series (Source: Natbat, message 21787).
* BBC Radio 2, Jonathan Ross Show, Saturday 21st September. Possible
Gents talking about the new series (Source: Stephen D)
* Radio Times Front Cover, Saturday 21st September (Source: Stephen
D)
01/09
And that is just a snippet of the overload of Gents related info you can expect! CLick on the Forum/Links button to join!
And the countdown starts!
Only 26 days until the new series starts! Don't forget, 10pm Thursday night BBC2, 26th September!
Would you like to receive latest updates by text message? Would you sign up to receive a weekly report of all Gents activity, appearances at book signings and shows, updates to the web site, gossip about the show or appearances in ART? Well soon you may be able to! Let me know if this is a service you would like here!
I am also considering a competition to win one of three DVD's or Video's of the Xmas special, again entry would be by text message, let me know if this is something you would like here!
27/08
Scary stuff!
There is a review of Jeremy's The Cicerones HERE provided by the lovely Tara!
The web site is getting very busy indeed as we get nearer to the New series on 26th September (bbc2 10pm) if things keep going as they are we will hit 60,000 visitors this month! Kepp it up! Have it!
22/08
Metal Gents!
The League of Gentlemen will be presenting an Award at the Kerrang Award which will be shown on Channel 4 at 11.35 pm August 29th!
Jeremy's Short Film 'The Cicerones' which played at Edinburgh will also be shown over the Bank holiday weekend at the Price Charles Cinema at 6.30 pm withthe feature film 'Dark water' on Sunday the 25th August. The short stars Mark and I am told all the gents will be there! Box office is 020 7494 3654.
The Gents still haven't been confirmed as starring in ART. We know they will, just not when!
As BBC2 are now showing repeats of the first and second series (Sunday nights) remember to watch out for any trailers!
The rumour is that Reece is currently filming TLC which will hopefully be shown on BBC1 this time next year!
20/08
Yes again!
Hope you like the new site (again!) I will be launching the new TV Comedy site soon, it will be a smallish site with latest comedy, reviews and interviews.
14/08
Third series date!
It has been confirmed that the third series will air on the 26th September! So Thursday nights at 10pm are going to be to die for!
TLC for ART
There may be a reason that ART has been so on and off, will they won't they and that is because (maybe...allegedly etc...) Reece may start filmng the much (ha!) talked about TLC comedy for BBC1. Filming was due to start this year and if so Reece will be unable to commit to ART. We'll see...
12/08
Well maybe they will, maybe they won't!
It seems Annanova have had to backtrack on their press release (where do they get their info from I wonder??) whilst it seems the gents will at some point star in ART, it has yet to be confirmed, so do not book tickets unless you want to see the play no matter who is in it!
8/08
This in from annanova...
League Of Gentlemen to star in Art
The League Of Gentlemen will make up the new cast of Art in the West End.
The comedy trio of Steve Pemberton, Mark Gatiss and Reece Shearsmith will begin a three-month stint on October 28.
The long-running hit comedy is playing at London's Whitehall Theatre.
Tickets are available to buy online at Ticketmaster.co.uk
03.08
Allas Klar?
I posted this way back in April but it seems some people missed it!
Want to hear the Gents work in the German language? Then visit here...
http://www.pro7.de/comedy/league_of_gentlemen/videos/
01/08
It's 'OK' for the Gents!
The League of Gentlemen were Spotted at 'The Elvetham' in Fleet in Hampshire recently where they did a photo shoot for OK magazine! The Elveham is a Hotel and conference centre (http://www.elvetham-hall.co.uk) and was an ideal venue for such a shoot! The article in OK magazine is expected to be published in September to coincide with the release of the 3rd Series! Pictured dressed as Ross, Mickey and Pauline are Reece Shearsmith, Mark Gatiss and Steve Pemberton.
There will also be an article and a picture in next weeks radio times!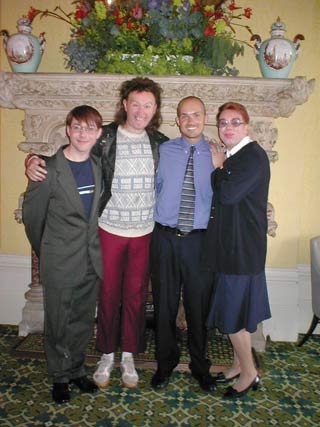 Thanks to Arran!
30/07
Christmas Special Cover!
The Full details for this release (25th November) are:
1. Audio Commentary By Cast
2. Behind-The-Scenes Documentary
3. Dr Chinnery's Tale- Early League Of Gentlemen Horror Film
4. 'In Conversation With...' Radio Four Show
Running Time 100 Minutes
And this is the cover...

29/07
The Christmas Special
With the release only 4 months away (!) I thought you might like to read a review by the respected British Horror web site www.britishhorrorfilms.co.uk so here it is!
The League Of Gentlemen Xmas Special
2000
There are lots of people who don't get it, but I'd always thought there was something special about The League Of Gentlemen. However, even I didn't realise just how special it was until Christmas 2000.
As a comedy series, it's hardly Are You Being Served?. Comparisons have been made to the Carry Ons and Monty Python, but it's far, far darker than any of these. Most of the "jokes" aren't really jokes at all - for example an obviously distraut woman bringing some unused baby clothes into a charity shop, only to break down in tears as they are pawed at and commented on by the vicious elderly women who work behind the counter. Yet even this grim scene (it's made very obvious why the items have never been used) still elicits laughter. Why I have no idea.
For those of you who don't know, The League Of Gentlemen is a BBC TV show set in the fictional North Of England town of Royston Vasey. Seemingly cut off from the rest of the world by the forebidding moors of the Peak District, the town seems normal - until you scratch the surface.
The series began with the arrival of Ben, an outsider who was supposed to be visiting his friend there and staying with his aunt and uncle. But his friend never arrives, and Ben finds that his relatives are far from normal.
This, however, is just one strand of the show, which explores a wide variety of characters (mostly played by the same three men - Mark Gatiss, Steve Pemberton and Reece Shearsmith).
Many of the characters in the series could have come straight from a horror film - Pop, a vicious Greek businessman who terrifies his family and tenants alike; Ben's aunt and uncle, who keep him locked up and drugged in his bedroom; Papa Lazarous, who runs a travelling circus and kidnaps housewives; and most famously, Edward and Tubbs, the owners of the "Local Shop" who kill every customer they have.
There are millions of sites dedicated to the show on-line, and as much as I'd like to list every catchphrase or famous scene, someone's already done that so I won't bother.
What I will say (and this is the reason for its inclusion on this site) is that the TV series only had horrific elements to it, with only sad people like me speculating whether old Brit horror films had been an influence. On that snowy Christmas night, the Christmas special was shown - confirming everything I'd suspected and wearing its references proudly on its sleeve. It was also a work of comic genius, and gorgeous to look at.
For a start it has the look of an Amicus portmanteau film, complete with framing device and three seperate stories of terror. Then you have the other references - Hammer's Curse Of Frankenstein, The Witches, Dracula and Vampire Circus, Tyburn's The Ghoul, the list goes on and on. It's even got Hammer stalwart Freddie Jones in it.
The linking tale concerns Royston Vasey's lady vicar, the acerbic Bernice - who greets and deals with all her parishioners with the same venomous contempt. Example: "Are you the vicar?"
"No, I'm the fucking gardener."
Alone in her church on Christmas eve, she is visited by three men, each with their own tale to tell and wanting advice.
The first is a long-suffering husband who is plagued by a recurring dream where his wife uses voodoo magic to ruin his life, before coming to a sticky end herself.
The second is the local vet, who's life (and career) has been ruined by a curse placed on a distant relative during Victorian times. For this we are treated to a fantastic flashback sequence involving the Victorian vet (the resemblance to Peter Cushing's Baron Frankenstein is unmistakable) as he makes his way to turn-of-the-century Royston Vasey and his destiny. Every Victorian cliche in the book is thrown in (a la Doctor Jekyll And Sister Hyde), and it even manages a dig at The Railway Children for good measure.
The last (and most horrific) tale involves a young man who travels to the German town of Duisberg, where he encounters the predatory Herr Lipp and a load of vampires (references to everything from Salem's Lot to the dream sequences in An American Werewolf In London).
Finally, we return to the church, where there's a twist ending involving Bernice herself.
If you love Brit Horror, you'd do worse than to catch the show. But if you want a real taste of how the late 60s/early 70s stuff from Amicus and Hammer could be updated for a modern audience, you must grab yourself a copy of the Christmas special.
Okay, so it's not a film, per se... But it's nearer to the stuff we love than anything else that's been created in the past 20 years...
Re-Published with Permission.
A little bit of Mullet
Regular viewers will have seen this before I think but it is worth another look, Mickey gets famous! This guy actually thought Mickey was a real person, even when he found out that it was an actor he thought that this is how the actor looks!
http://www.mulletjunky.com/picfix3.htm
28//07
The Forum
The Forum has been relaunched! It currently has nearly 200 members but only a handful are regular posters so it has been relaunched with new rules to appeal to a wider audience! Click on the Forum link above, the have to register to post but you are welcome to lurk for a while if you like but remember...'We would love for you to join us!'
The League to star in ART
It seems certain now that Steve, Reece and Mark will star in the West end hit ART. Their run will probably start in October and will run until January 2003. This efectively kills the rumour of a local tour starting November! Although experience shows that nothing is 100% until it happens!
24/07
Want to be famous?
If you want your 15 minutes worth of fame then read this! If you e-mail, please mention where you read this!
I am currently working on a TV show about fans and am trying to locate some die hard league of gentleman fans who would like to appear on a entertainment panel show. Fans must be british based, be over 18 and obsessively love League of Gentleman with a passion. If you are interested , please email me at sharyn.mills@chxp.co.uk
Local show rumour
The rumour (local show) has been denied by the League's management but it still won't go away! The rumour is that there will be a 4 week residency at a central London theatre coinciding with the release of the Xmas special on DVD and Video. A tour will follow in the new year. I have asked their management twice now if this is true or untrue and each time they have said it is a definite NO! However, there was a rumour that the Gents were to appear in ART around September time, this may still happen but if it doesn't then there does appear to be a gap in their schedule. It does make sense, do a live show just after the third series has aired when interest is at its highest, do a national tour in the new year and then use the money earned off that to go away, write the film they want to do, then the third series will appear on DVD and Video just in time to announce the filming of the film! Well I can dream can't I?
If the rumour is true then tickets will go on sale in September. As always I will keep you informed!
22/07
The rumours of a live show in November have surfaced again, I will tell you more once I can confirm or deny!
Local noses!
Thanks to Tara and Shaz I can now bring you the info on how to truly make your noses 'Local!' See this page Noses!
19/07
General news
Hello again, it's all a bit quiet at the moment, Wicker man fans have a new soundtrack out, a new series of Phoenix Nights starts on Aug 8th and the first series DVD is being prepared as we speak but not a lot is happening in the LoG world! Well unless you count the convention last weekend which I believe was excellent! All true fans should go to one at some point, I will of course give you all details of the next one but if you search Yahoo groups you will find pics an all sorts!
Ah well we have the new series to look forward to hopefully in September and the Xmas special in November so all is not lost! If the lovely Tara doesn't let me down I will soon have detailed instructions on how to get your nose to go 'Local'!
12/07
Ok I have messed enough, I hope the site is looking ok for most of you! If not I may have a nervous breakdown! Please let me know what you think by mailing me here
11/07
Meeting in Hadfield
As previously mentioned but just in case you have forgot, there is a convention in Hadfield this weekend, starting Friday night at 6pm in the Masons pub, see www.roystonvasey.co.uk for more details!
8/7 The League of Gentlemen Christmas Special!
The League of Gentlemen Christmas Special that first aired on BBC2 on the 27th December 2000 will be released on region 2 DVD on The 25th November 2002. This has been eagerly awaited by fans of the award winning show and will feature a behind the scenes documentary, the 'In conversation with...radio 4 show' and also early League of Gentlemen Horror film, which may be a sneak preview of League of Gentlemens forthcoming feature film or may be the rumoured film they made years ago that was talked about at the Cornerhouse theatre last year!
It is rumoured that the VHS Tape will come in a 'Local shop' shaped tin! Damn, that means having to buy both again!
There is an Interview with Kev who was in the documentary that inspired the job centre sketch here
newsite@leagueofgentlemen.co.uk
01/07
Hello and welcome to July, is this Summer now? The keen eyed will have spotted that I am trying to fix a few glitches on the site, hopefully the Index page, the Biography page and this latest news page are now fixed but I will be working to improve the site and to add more stuff all the time!
25/06
The new site is currently undergoing a few repairs after it came to my attention that it is bloody slow to load! I knew it was 'quite' slow but I hadn't realized just how slow it was to some people! The following pages have been improved Biography, Character pages, Episode list, Index page, the downloads page, this page and the Dolls page. I will continue to try and improve the download speed, please let me know your comments newsite@leagueofgentlemen.co.uk. Incidentally I have spent a long time on the images on this web site, graphics like the Edward and Tubbs at the top of this page took a long time to cut out in photoshop, however all images are Copyright The League and the BBC and I feel it would be extremely wrong to ask visitors not to use them as I have taken them from the show (and other places...) in the first place! So if you want them for screen savers, wallpaper or even to start your own web site with then please help yourself!