"...four young men who got together to produce a stage show...they took it to Edinburgh and they won the Perrier Award. They Transferred it to radio and won a Sony award. They thought they'd have a go at Television, they won a Bafta award, a Royal Television Society Award and the Golden Rose of Montreux...The League of Gentlemen"
'Paul Jackson 'In conversation with...' Radio 4

The League of gentlemen are: Jeremy Dyson, Steve Pemberton, Mark Gatiss and Reece Shearsmith.
BBC 2 aired the first episode of The League of Gentlemen 'Welcome to Royston Vasey' on 11th January 1999.
Over ten years later, we have had a second and a third series, a Christmas special, loads of books, two national tours with the 'local show for local people' and 'The League of Gentlemen Are Behind You' and many individual projects such as TLC, Surrealissimo, nighty night, Benidorm, Dr Who, Catterick, Sherlock and film appearances in Birthday Girl and Hitchhikers Guide to name just a few. Reece has taken to the boards a few times and has appeared in the stage version of The Producers. Steve has become a regular on TV in Benidorm and has appeared in many quality drama and Mark has fulfilled a lifetime ambition not by just writing an episode of Doctor Who but by starring in an episode! Jeremy has published more books, co-written a brilliant TV series, Blackpool and co written the amazing stage show Ghost Stories with Andy Nyman and has too many projects on the go to mention them all!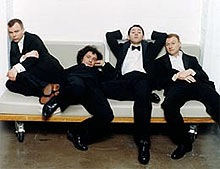 Collectively they Fulfilled a lifetime ambition with their very own feature film entitled The League of Gentlemens Apocalypse which is out on DVD and a DVD of the Panto tour is out also! Steve and Reece won A Comedy Award with the first series of Psychoville and have a 2nd series under their belt which is also nominated for a comedy award! Can we beg them for a live show of Psychoville?
Psychoville was launched in June 2009 and features both Steve and Reece supported by an amazing cast including Dawn French, Christopher Biggins, Dame Eileen Atkins and Nicholas Le Prevost to name but a few! Visit the latest news section to learn more!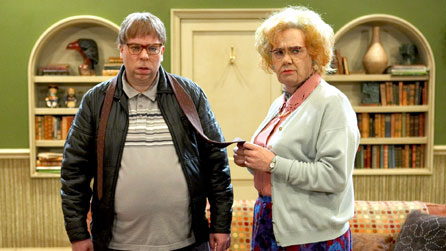 This site will always keep you informed on everything the Gents get up to, from appearances on the stage, to book signings, from voice overs to Radio and TV appearances plus we will be keeping you up to date on all the gossip regarding the next series or next film!

This site receives visitors from every country in the world and the good news for our American visitors is that Region 1 DVD's are now available! Click Here for more!
If you are new to the site then I suggest you start off by reading the latest news which you will find under the Info section then click on the video clips or listen to a sound clip! Get a film cell, or a key ring and the must have new item of merchandise has to be the Royston Vasey Road Sign! If you are 'local' check out the LoG Dating in Info, as mentioned by Edwina Currie on Radio 5 no less!
I hope you enjoy the site!
Marie and The League of Gentlemen Site
New Merchandise is now available! Check out the T-Shirt section!